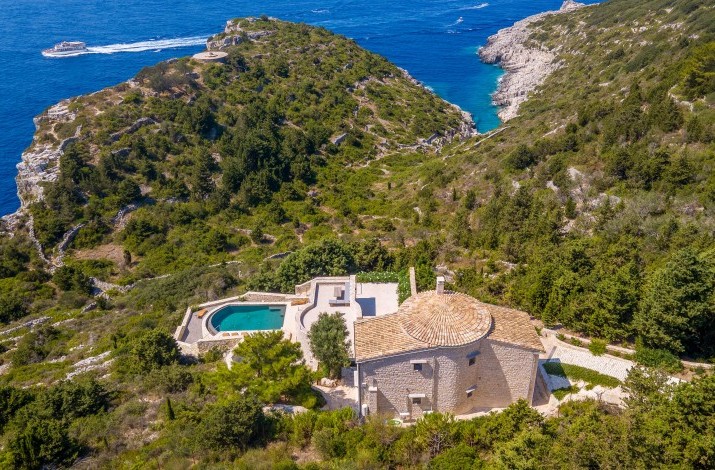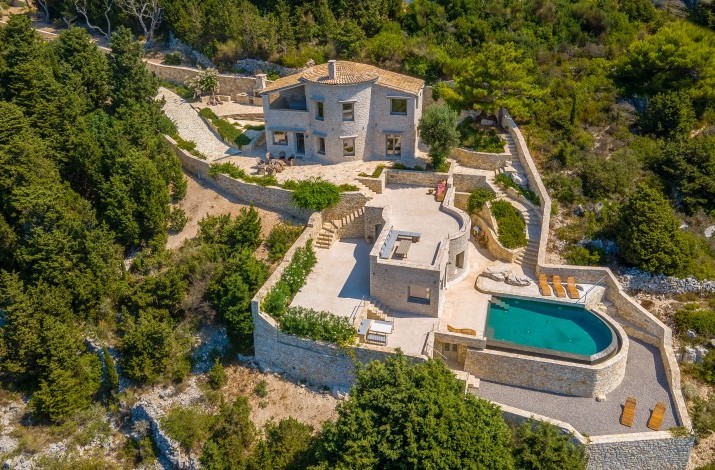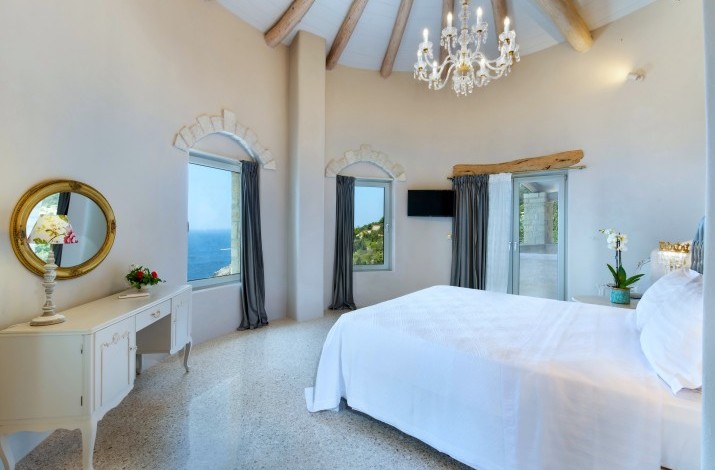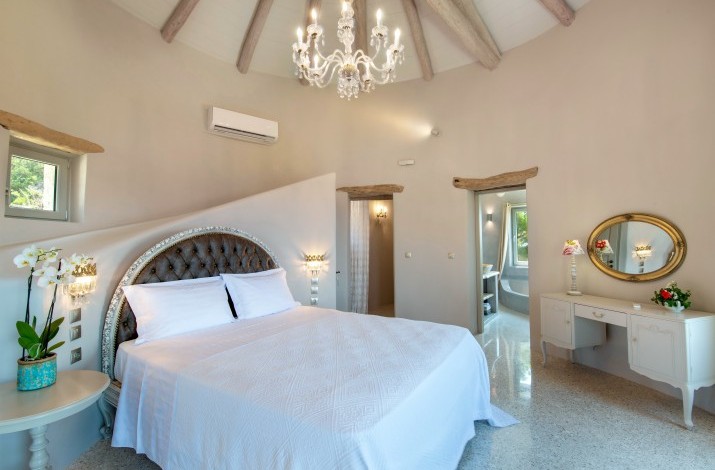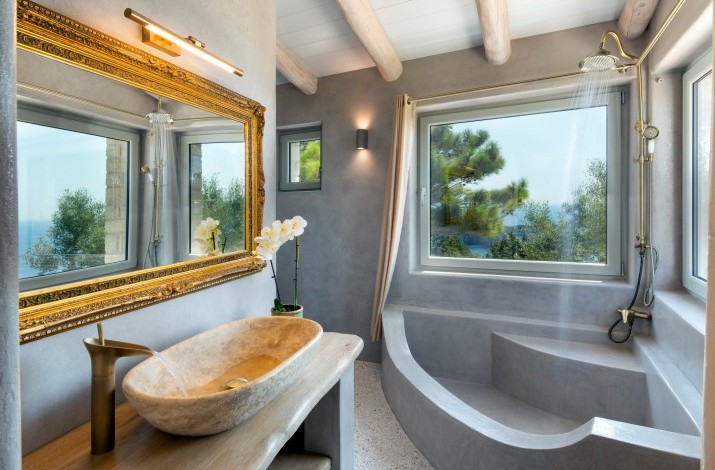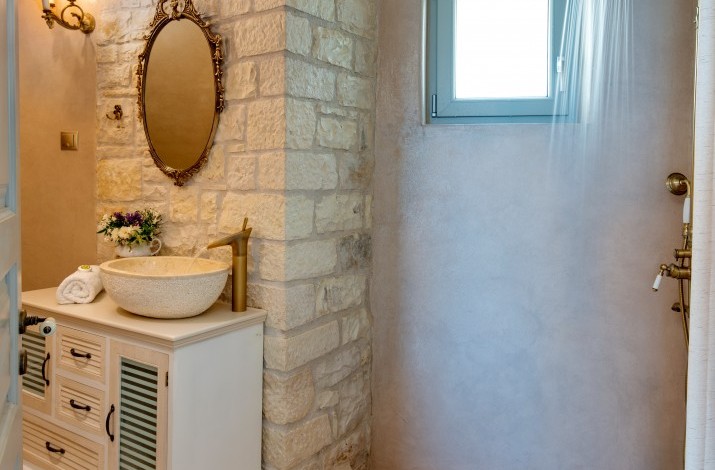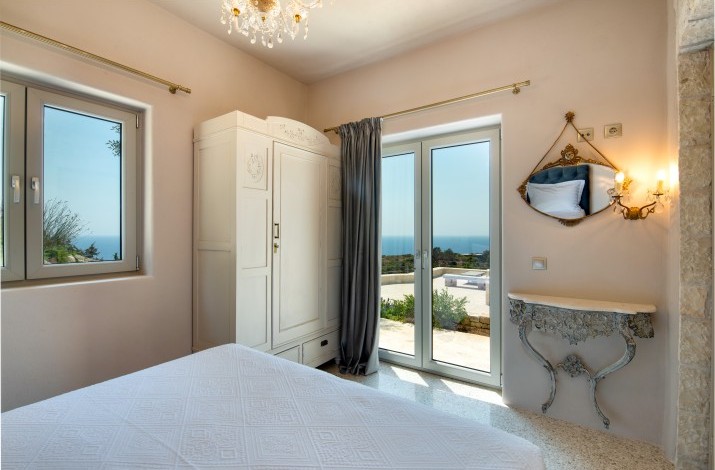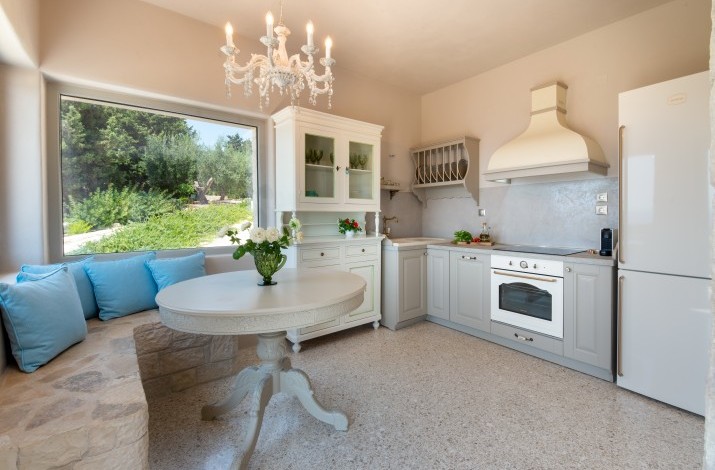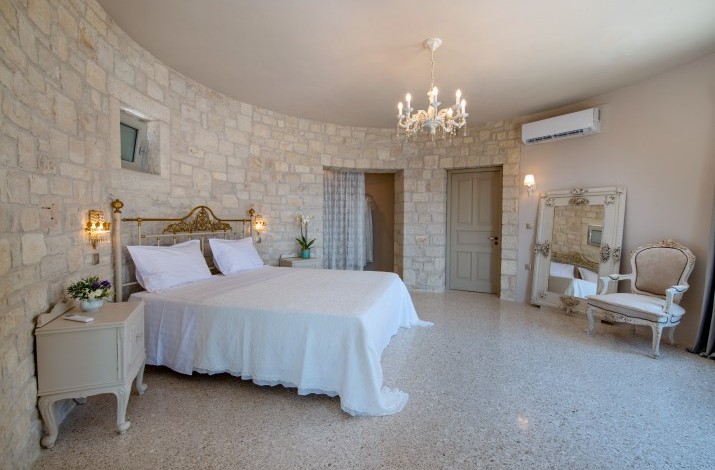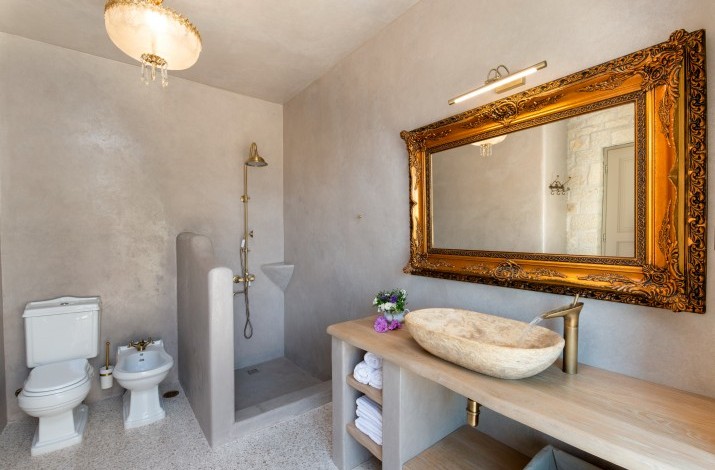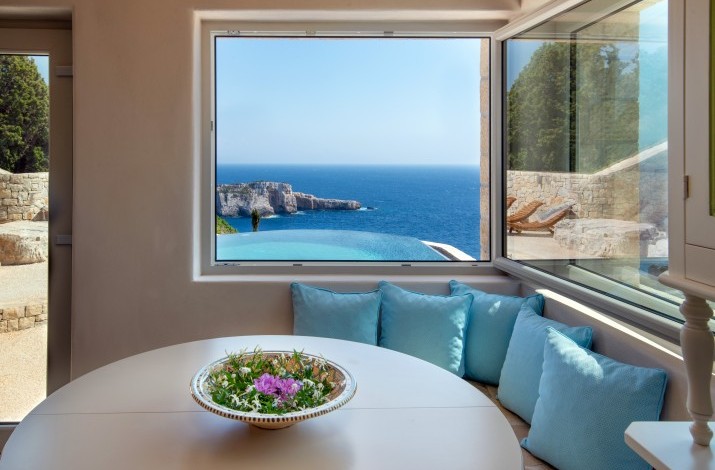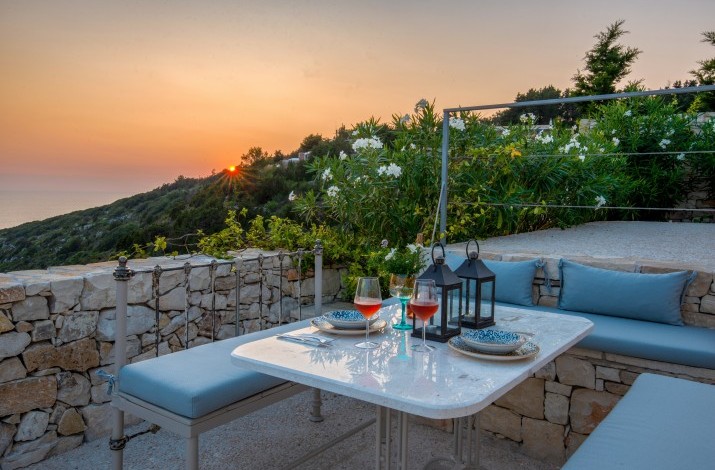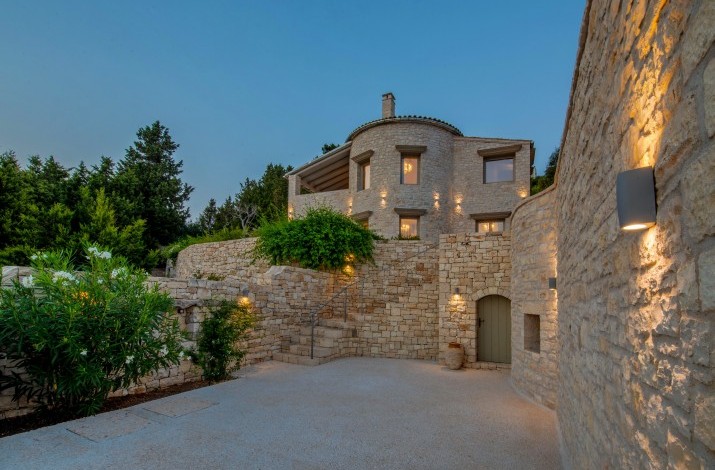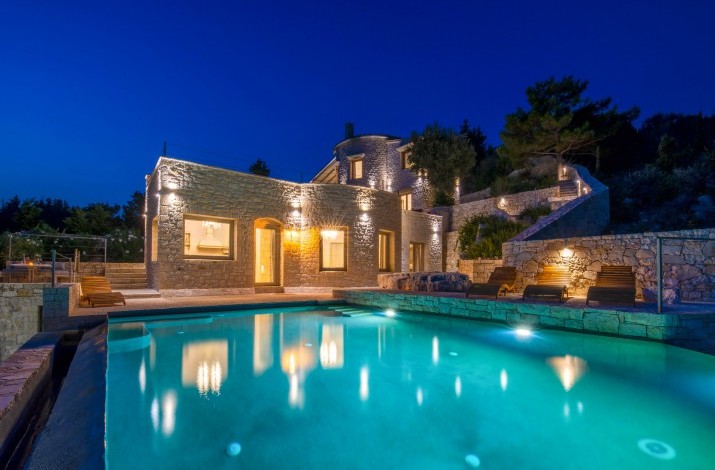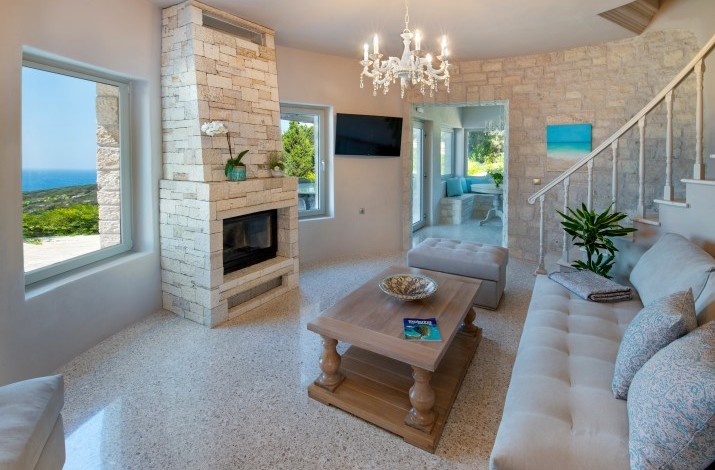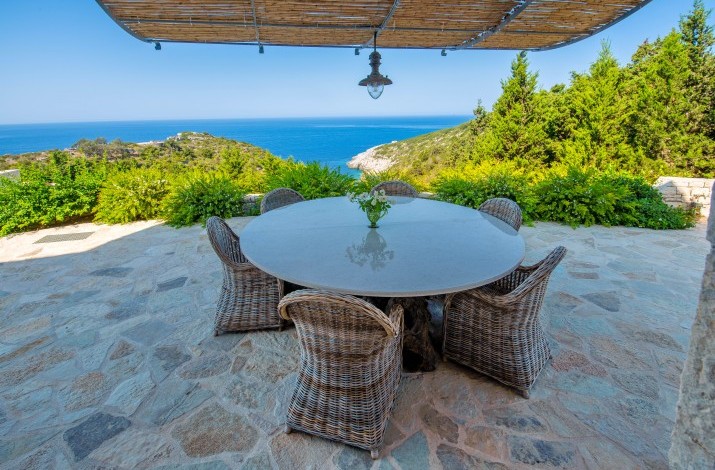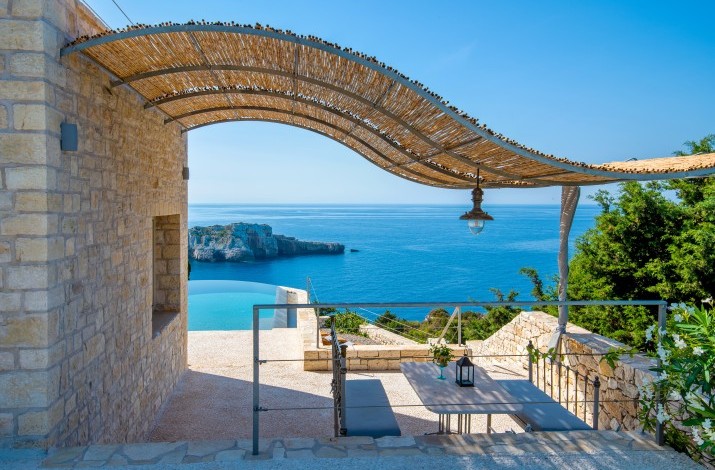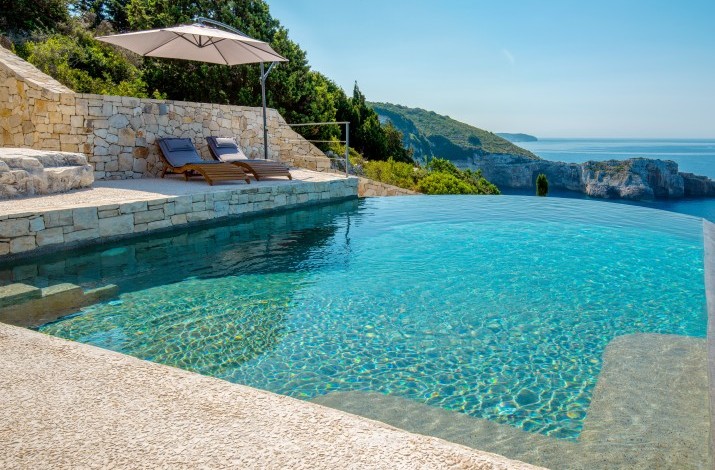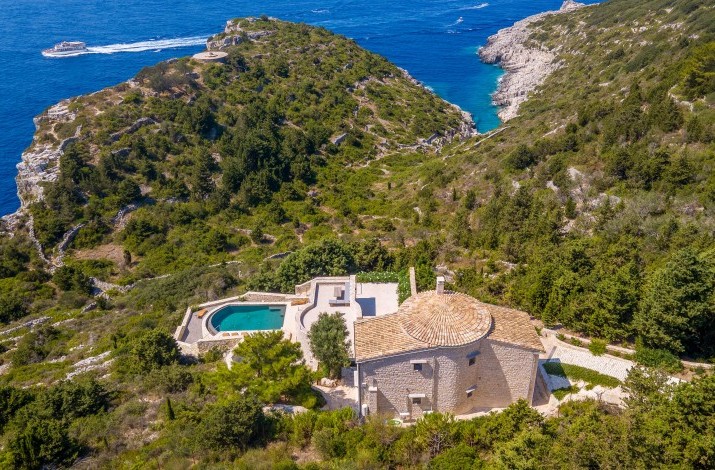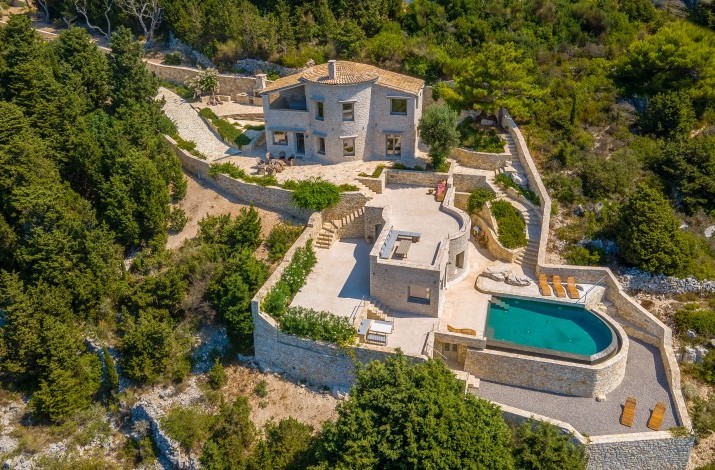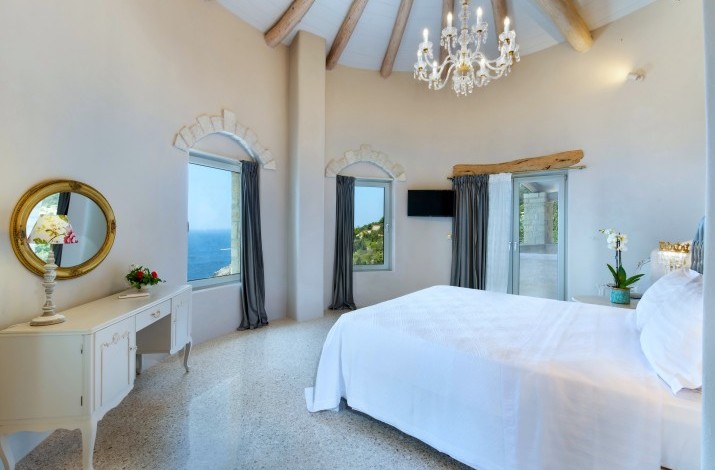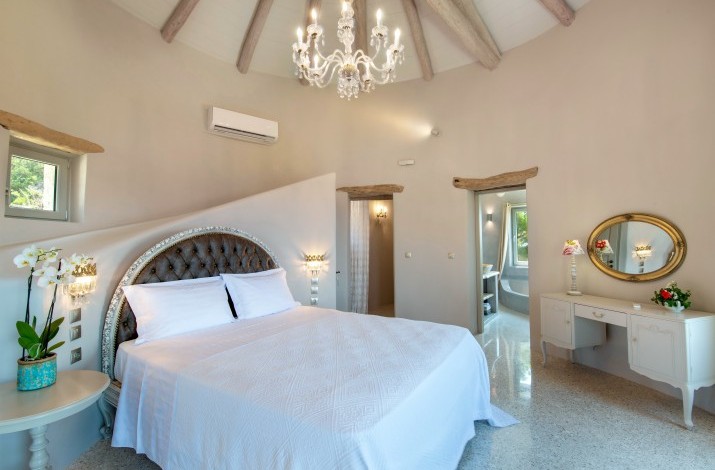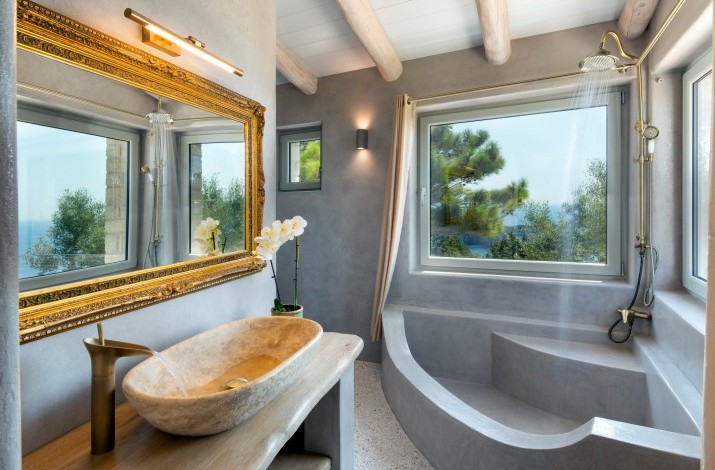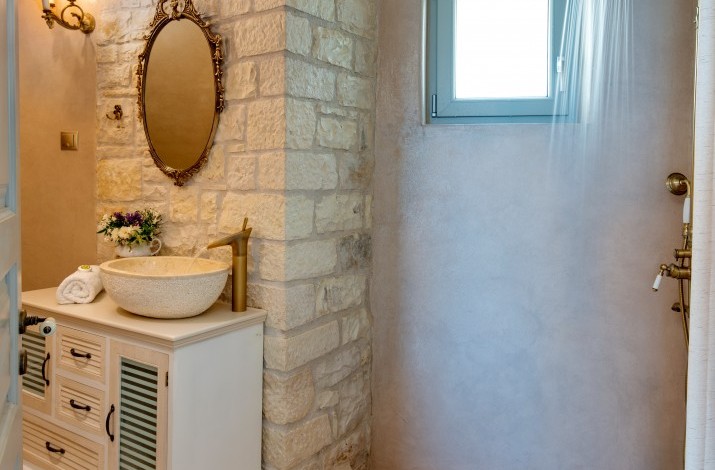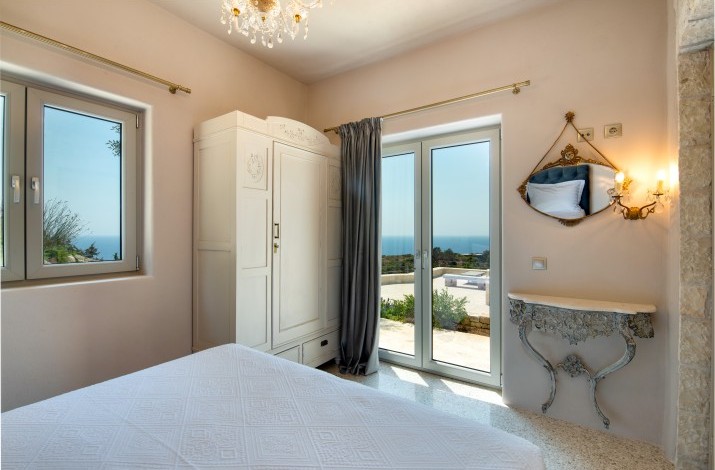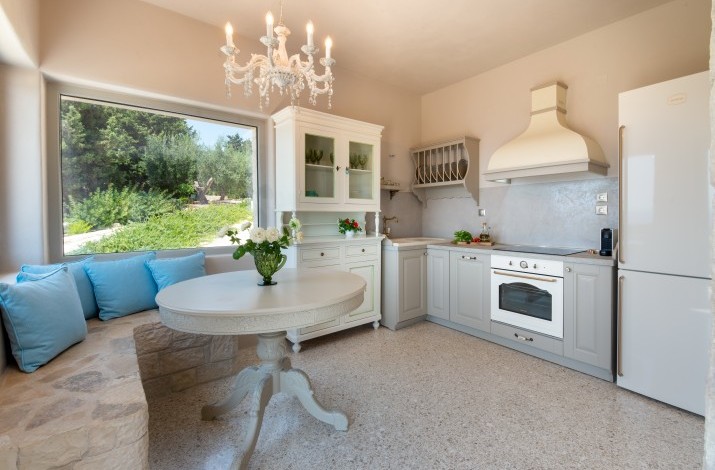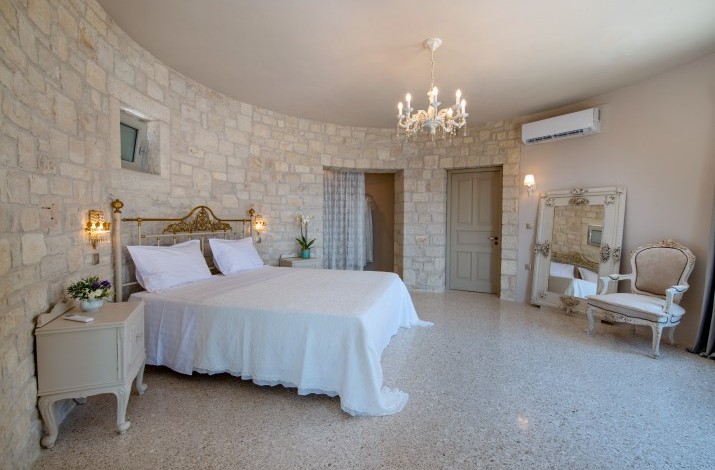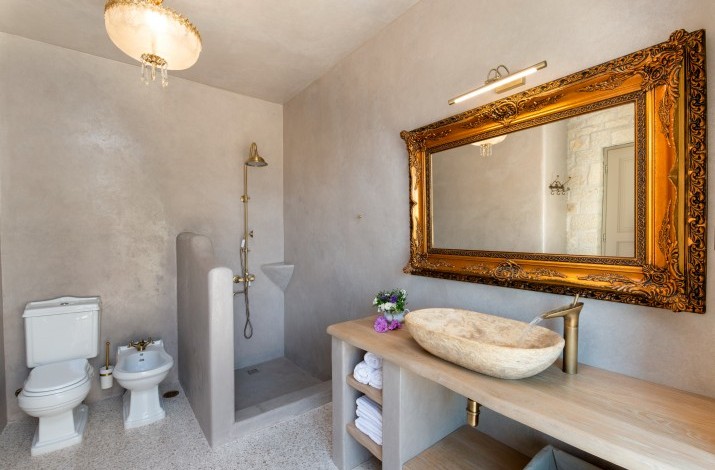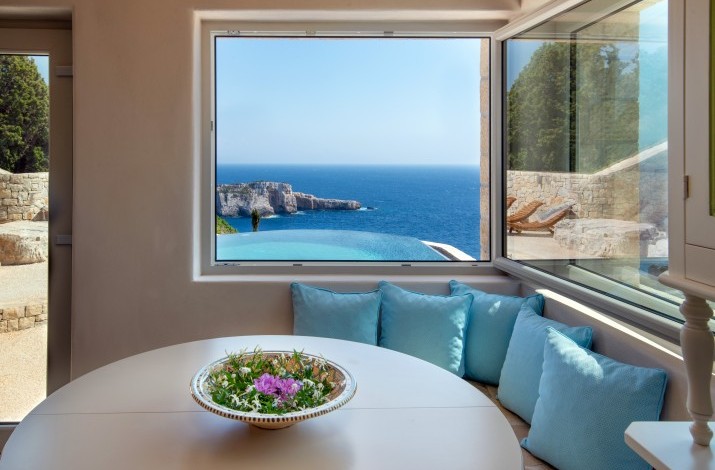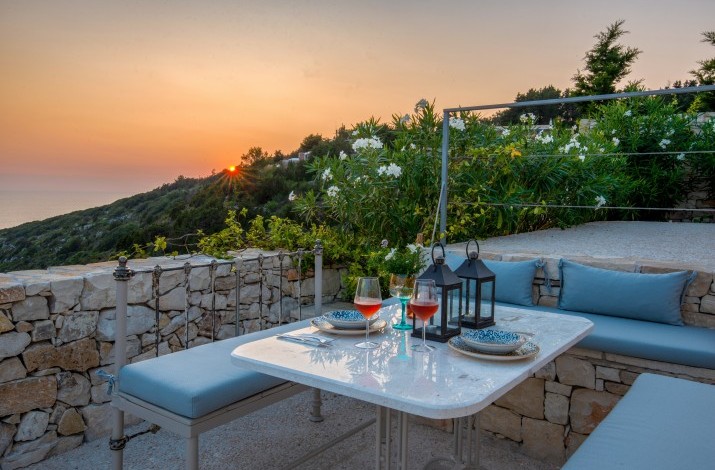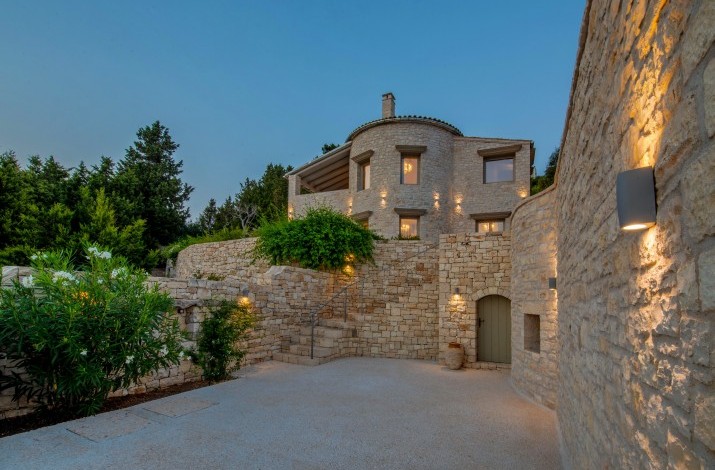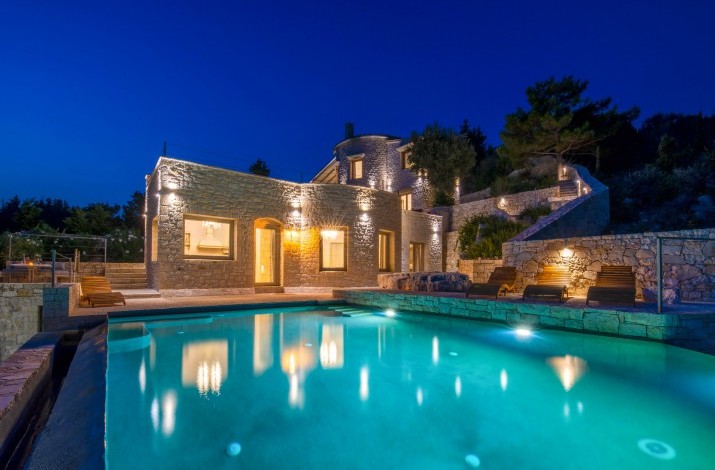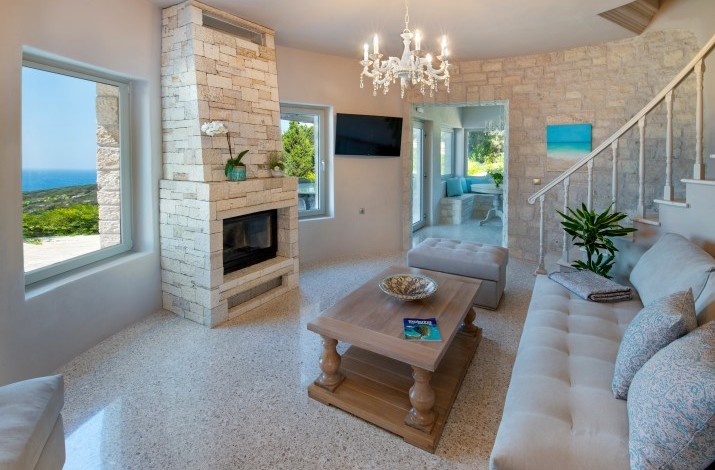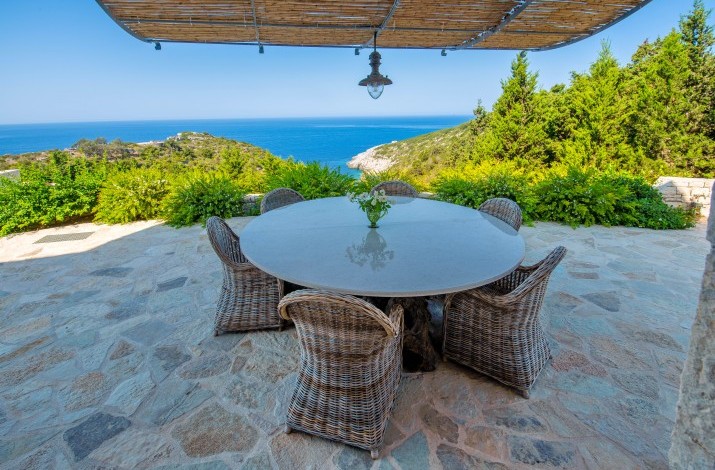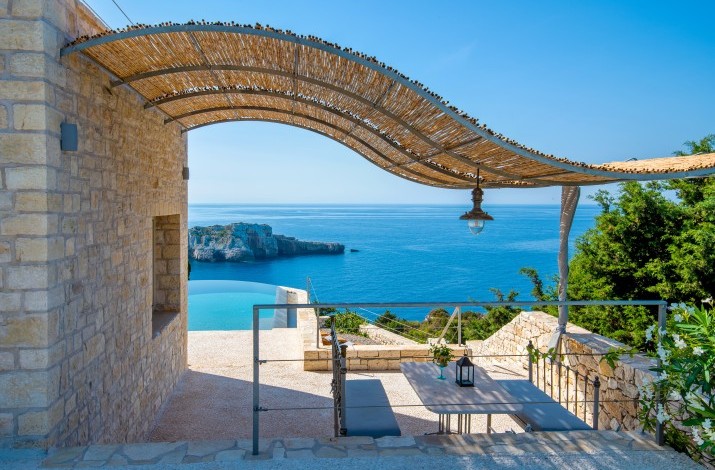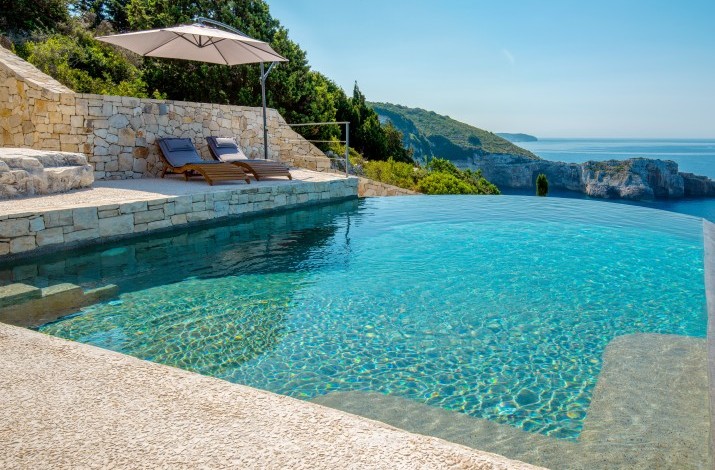 Prices from .€ per day.
This is a property for 6 guests, comprising of three air conditioned bedrooms, three bathrooms, two kitchens and a laundry
Follow a path through the olive groves and come out to the edge of a cliff to be surprised by majestic sea views: that's where our villa will be awaiting you,
for a plush Mediterranean break. This spectacular newly built stone construction presents a beautiful two bedroom villa, an independent pool house with one
further bedroom, breath-taking views, an infinity pool and charming landscaped gardens.
The main villa is a 2 floor construction which includes a kitchen/dining area, a living room, 2 full bathrooms and 2 bedrooms. The upstairs master offers it's
own terrace and a walk-in closet, with its own master bathroom as well.
The ground floor opens up to an al fresco dining table, as well as a BBQ and coffee areas. Last but not least , a very spacious roof terrace with
unbelievable views of the sea and the cliffs of the west coast, the perfect spot for an evening wine!
A stair pathway leads you to the pool house, an independent stone construction with its own kitchen/dining, a very spacious bedroom, walk-in
closet, and a full bathroom. Extra outdoor dining is right outside your door, a bit further the pool shower facility. Finally, just a few steps away, you can
enjoy the stunning infinity pool of the villa, built to make you feel as if you are floating on the edge of the sea.
For the more adventurous sea lovers, there is a very secluded bay just below the villa, reachable via a foot path, about 5 minutes walk from your
front gate.
The property has been built with love and great attention to details, resulting in a high quality property perched on one of the best spots of the island.,
facing the Greek old cistern, Mousmouli bay and Bougazi creek below
The Greek sterna gathers rain water from its own surface and was built under Venetian rule. It was also used during the war to provide ships with drinkable
water, it can be reached it in less than a 10 min walk down the path (not for those with walking difficulties)

air con in all bedrooms, Nespresso machines, dishwashers, full kitchens in both buildings, utility room with washing machine, iron and ironing board and
a dryer.
Preferred arrival day Monday.
The villa is only suitable for adults due to the drops, it is not suitable for children.
EOT number: 1214081
| Dates | Price |
| --- | --- |
| Please contact for pricing | . |