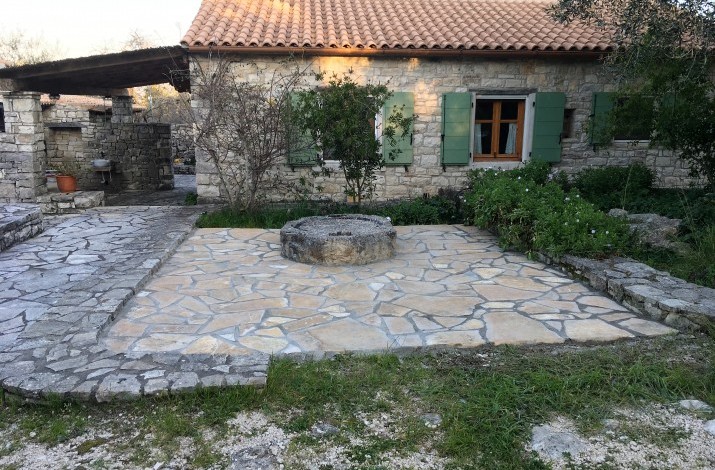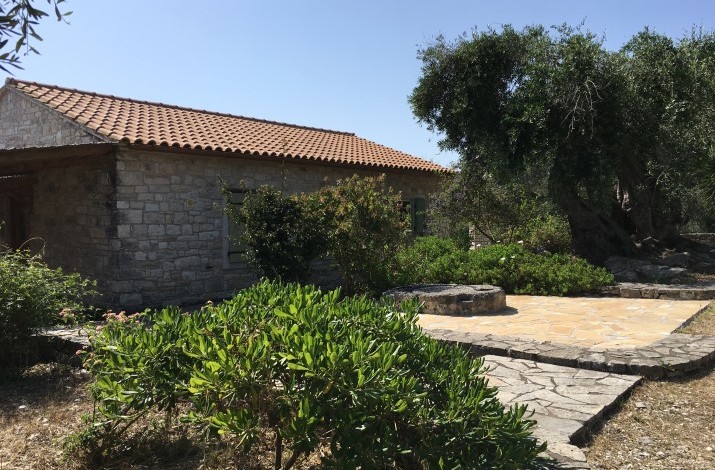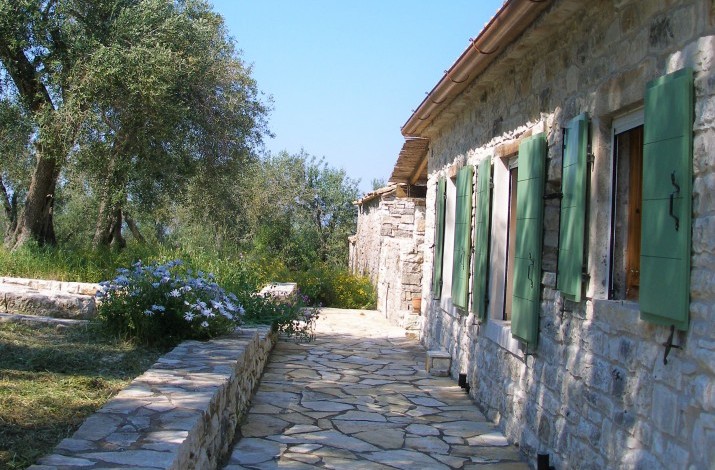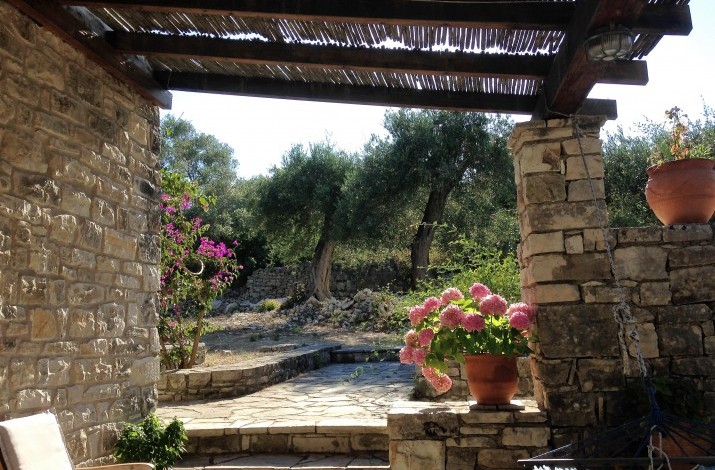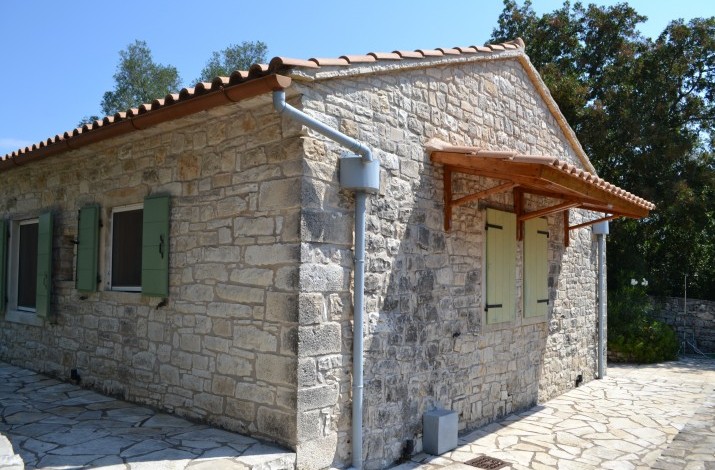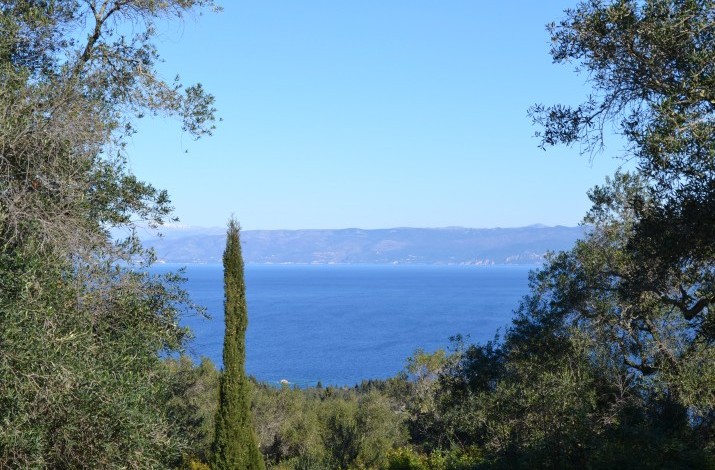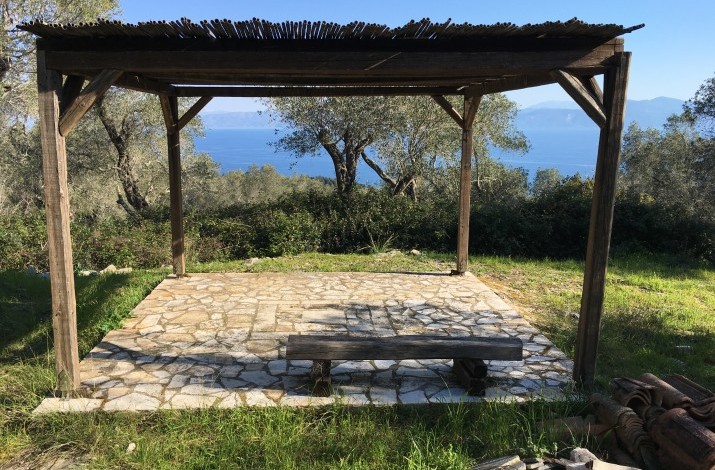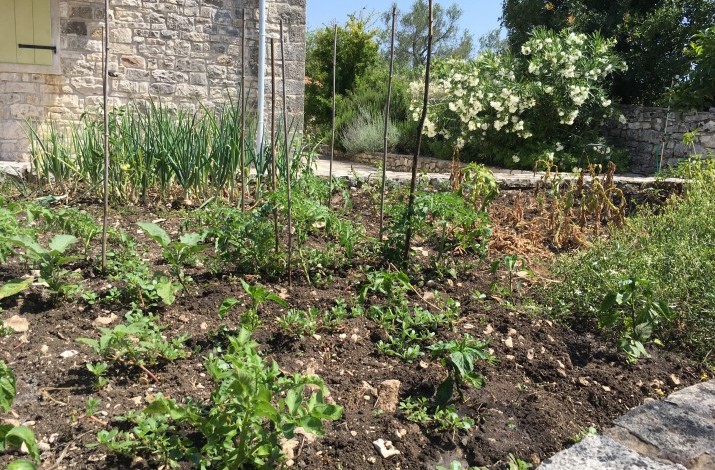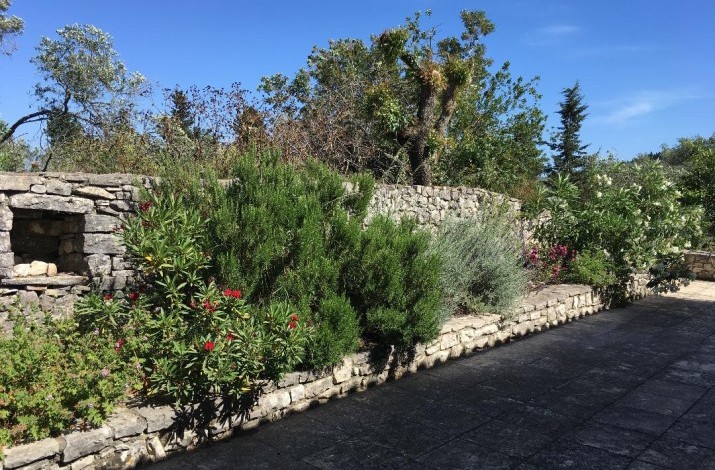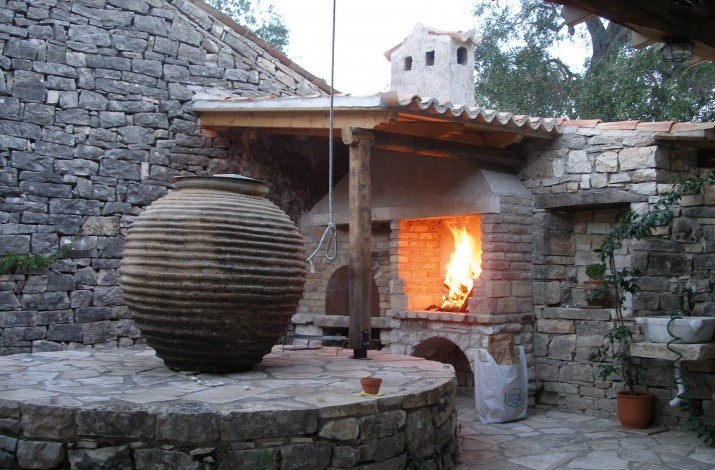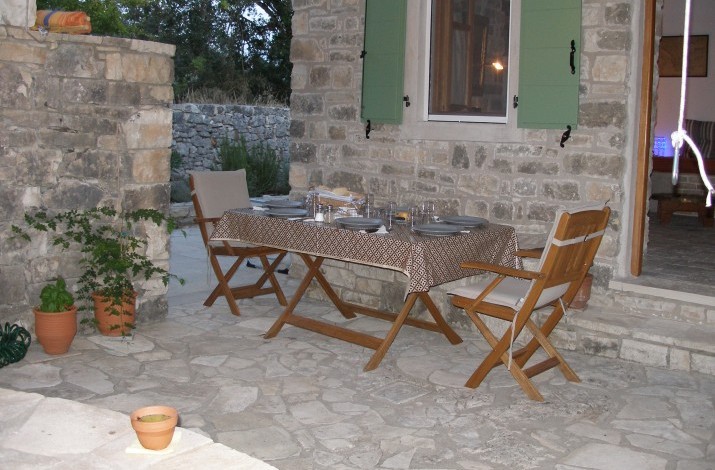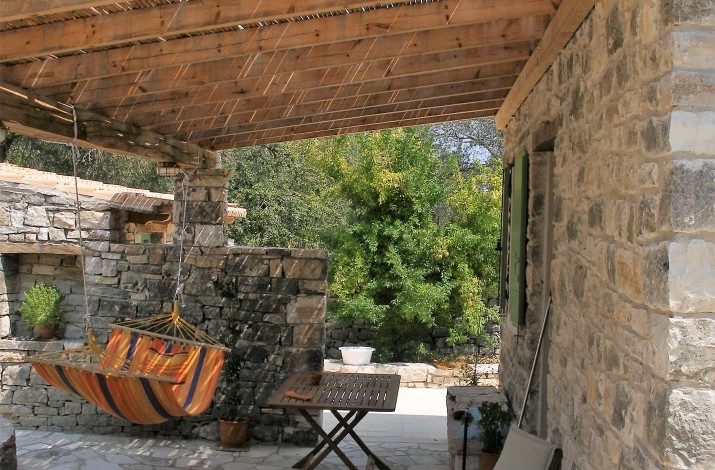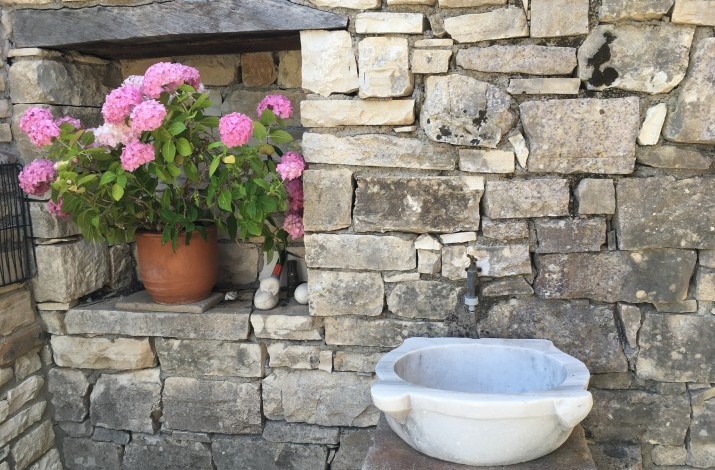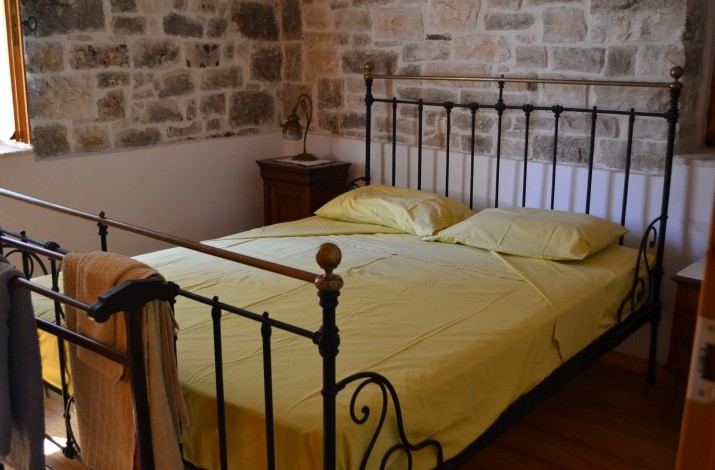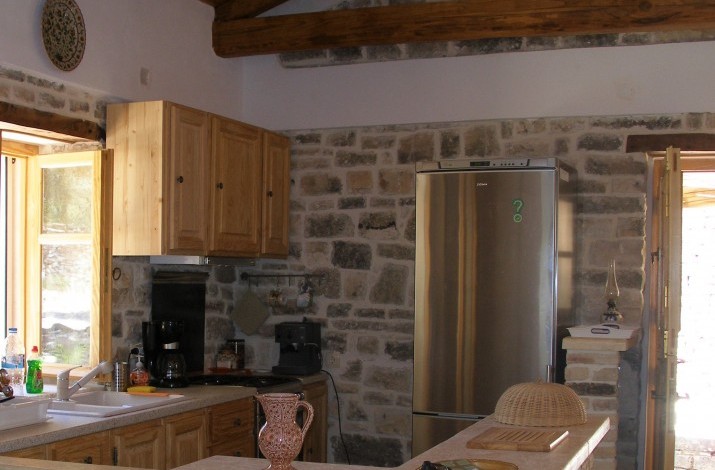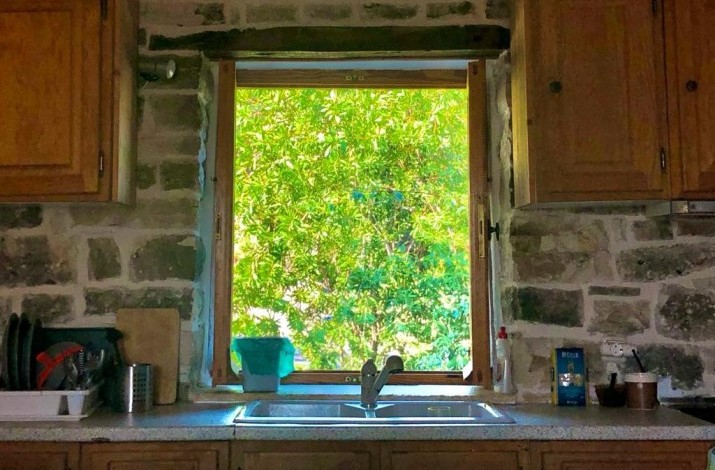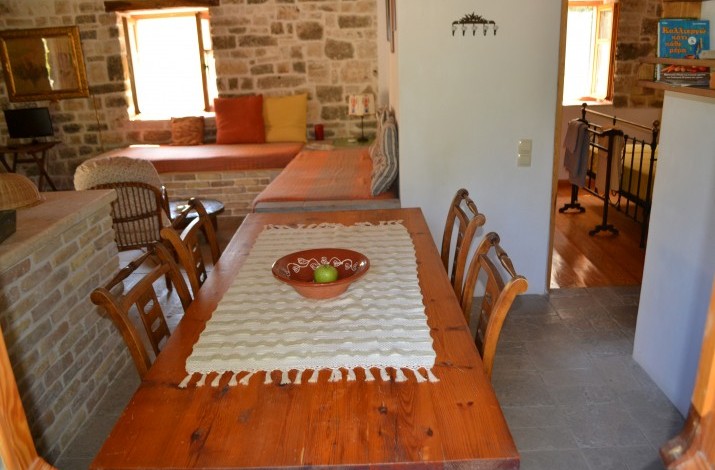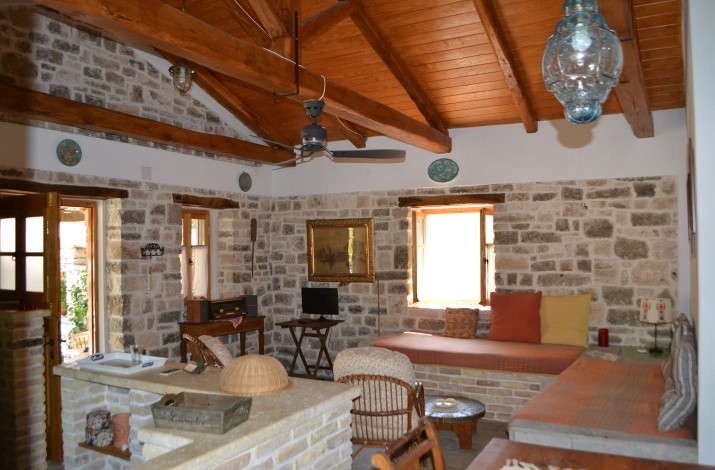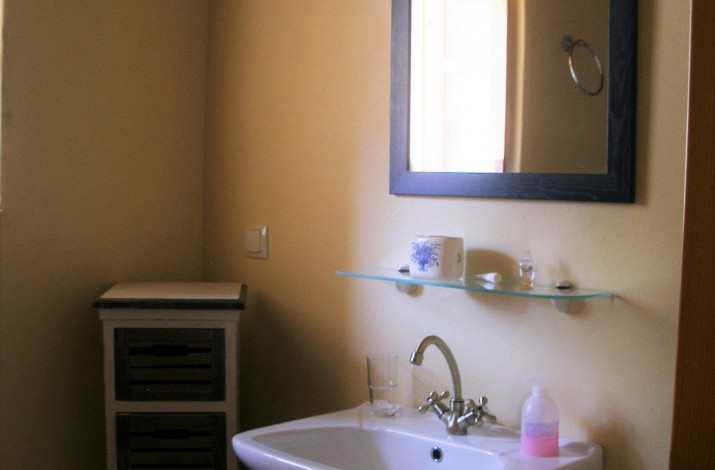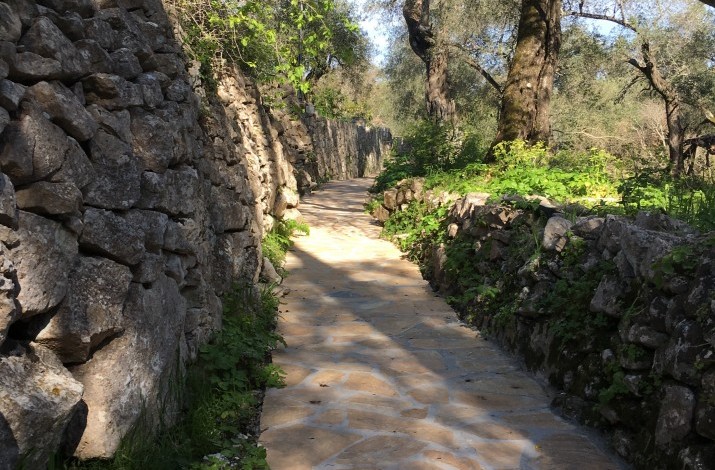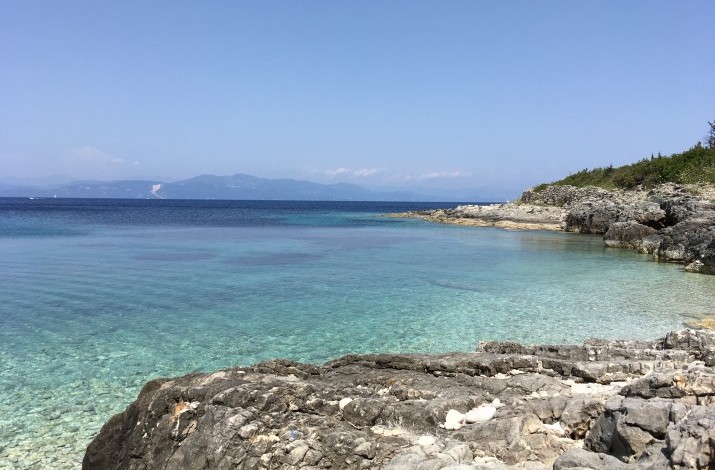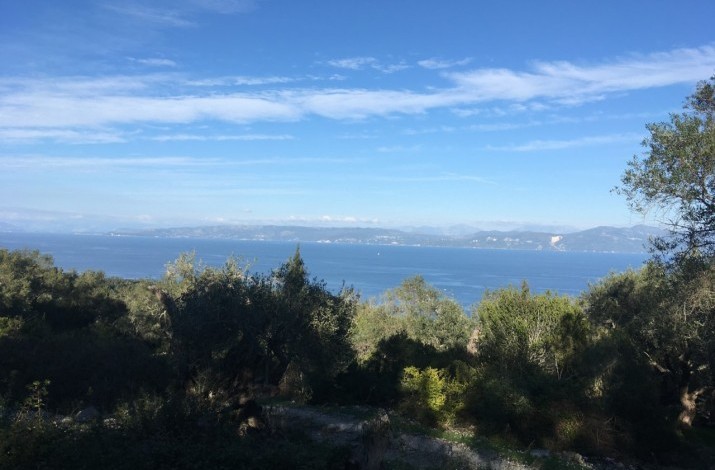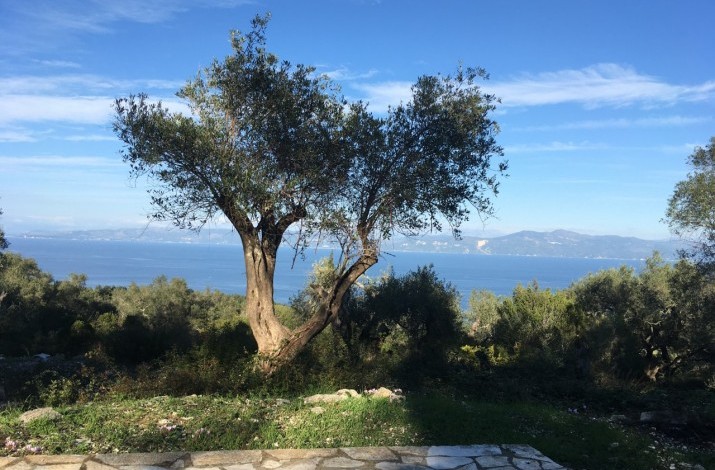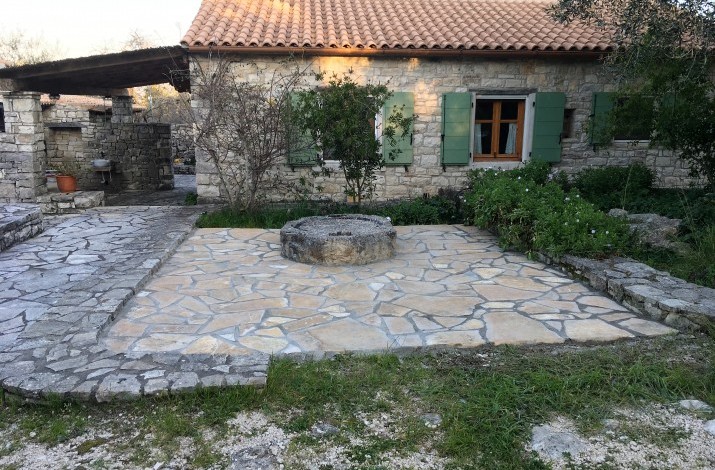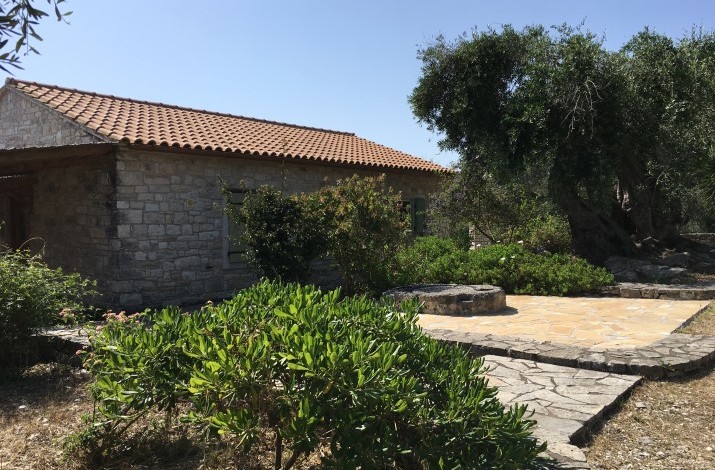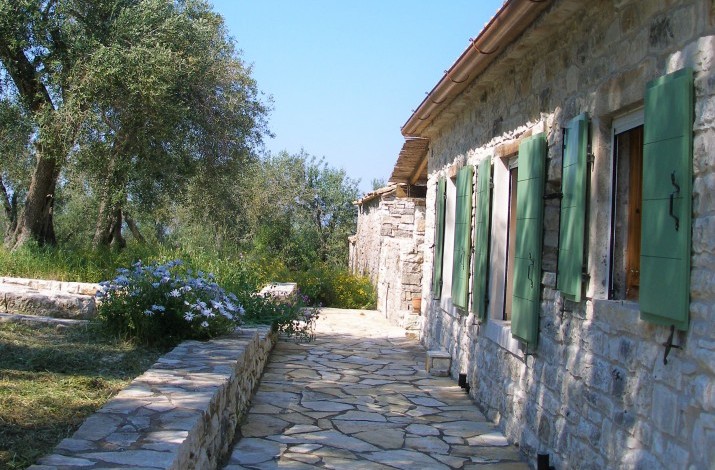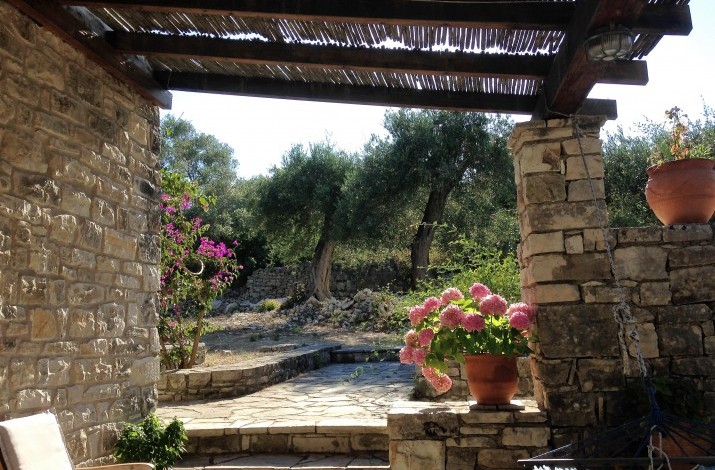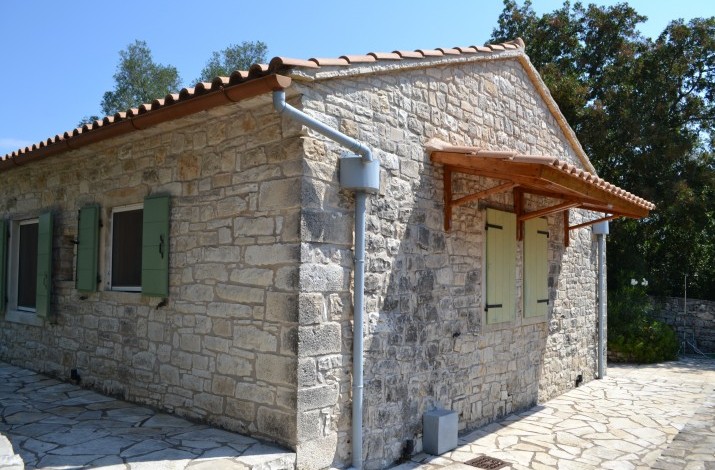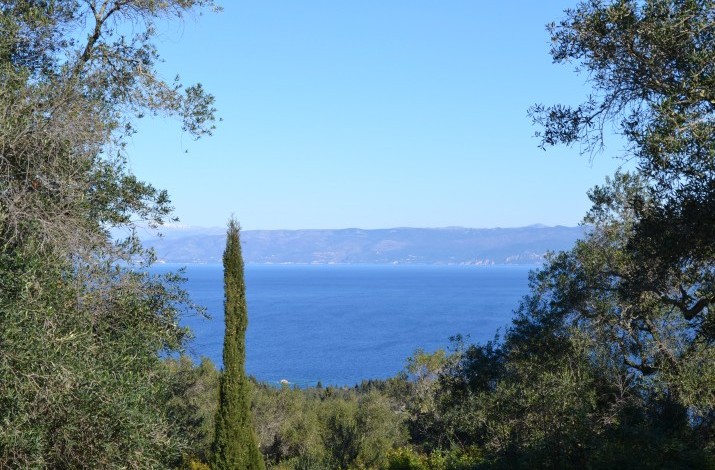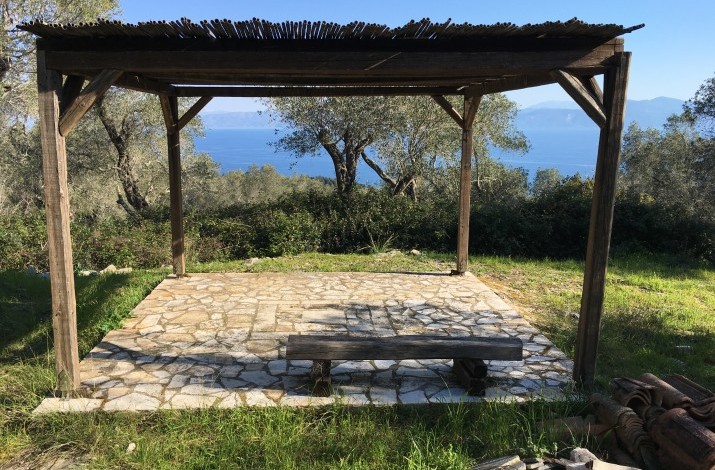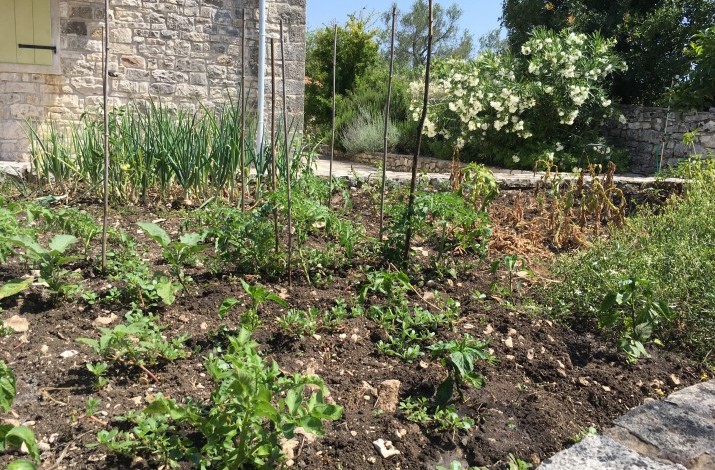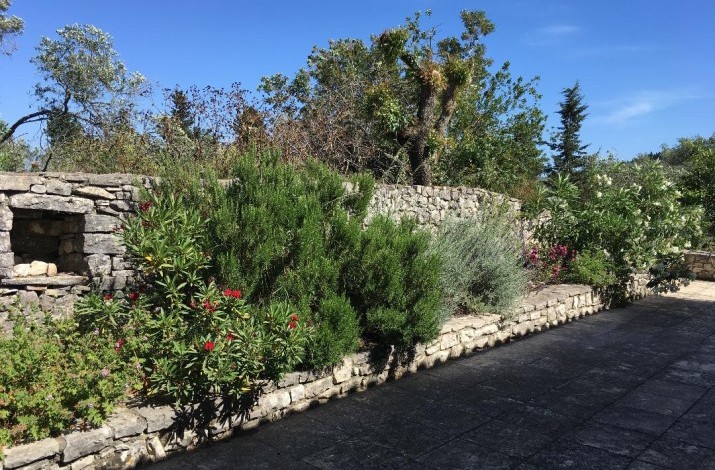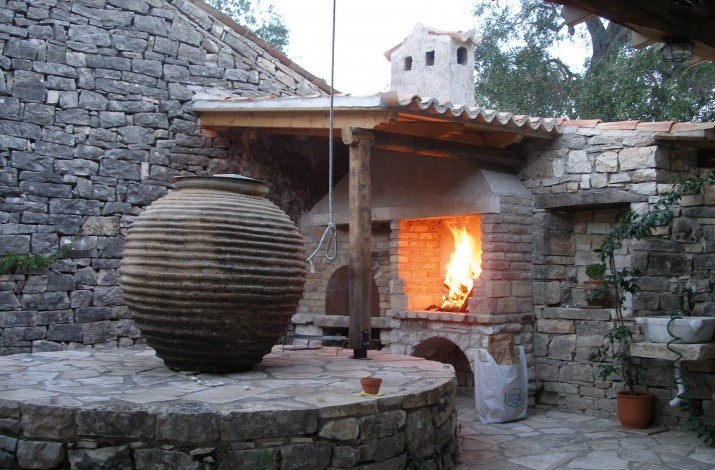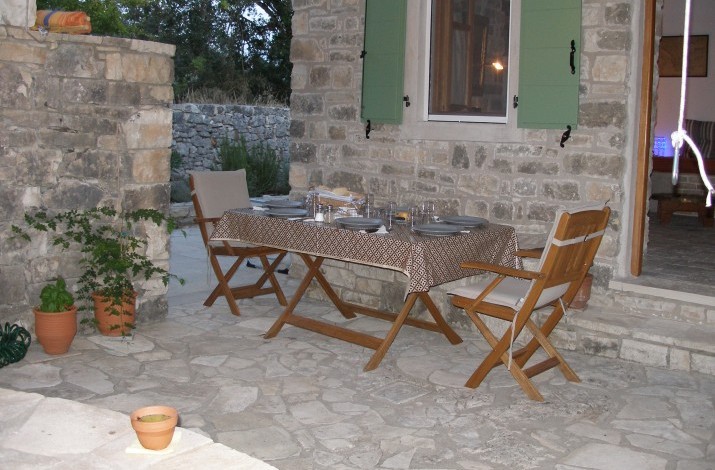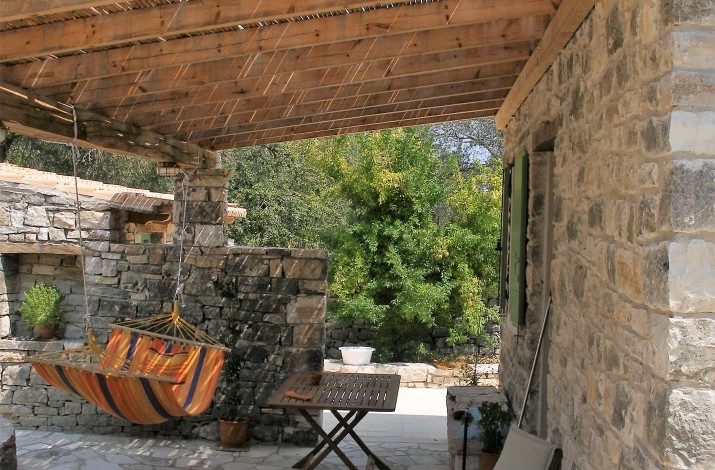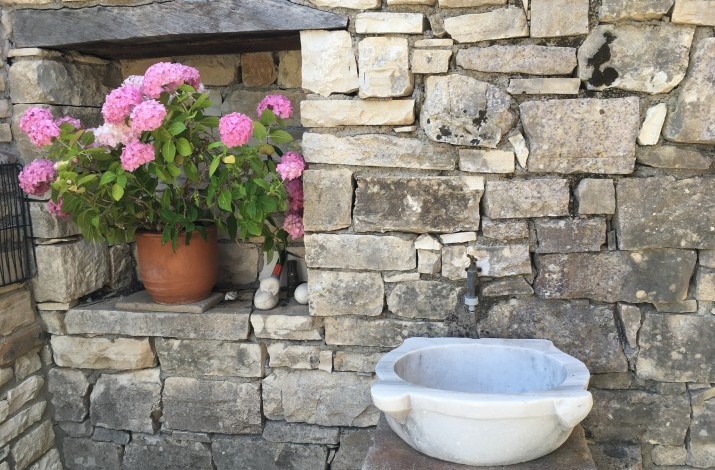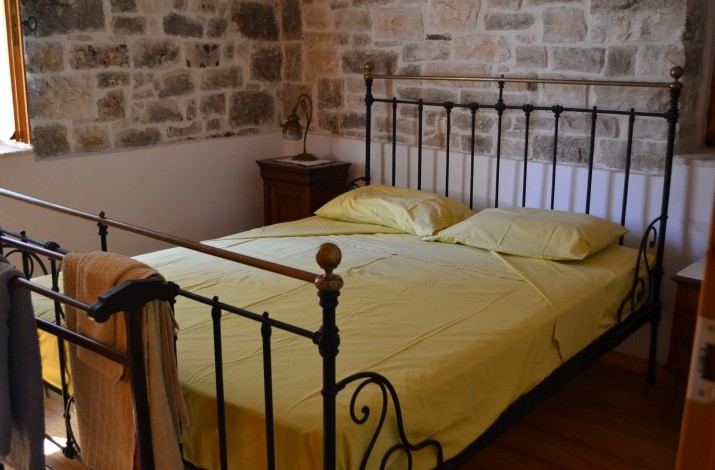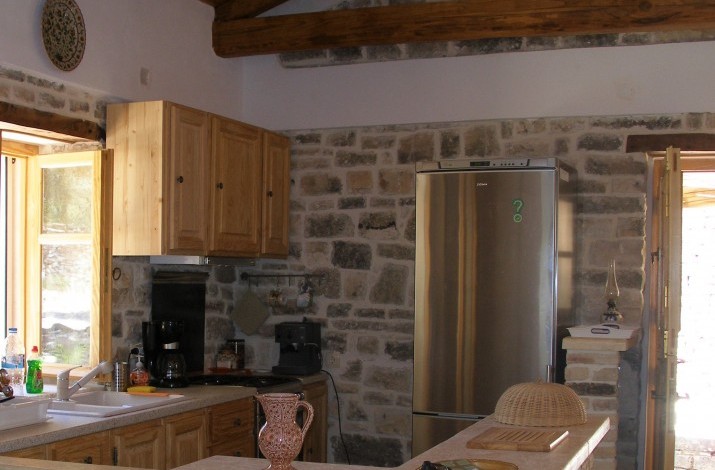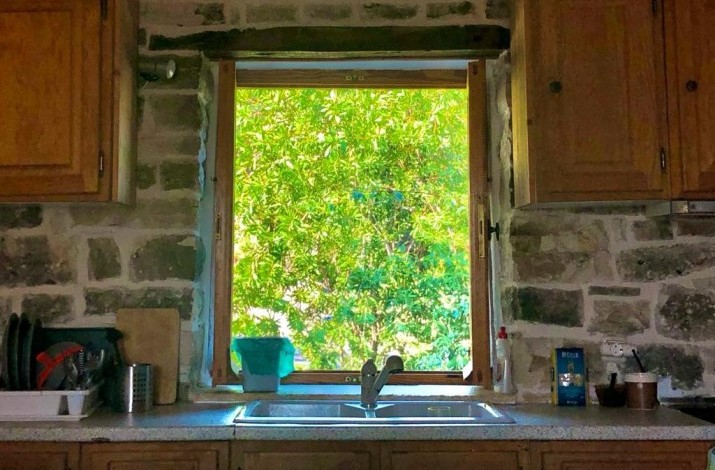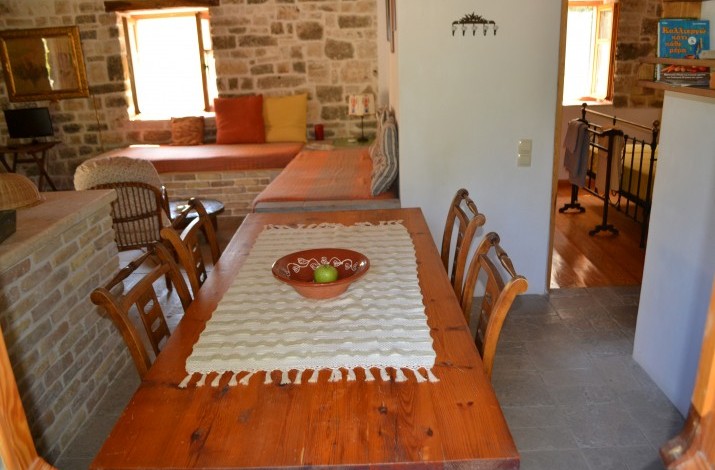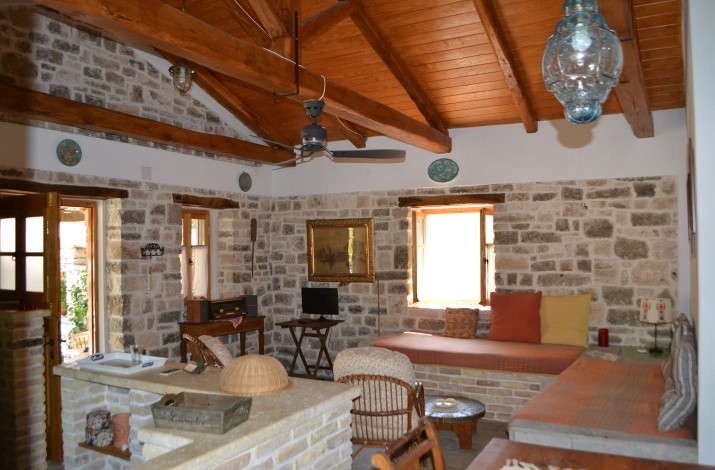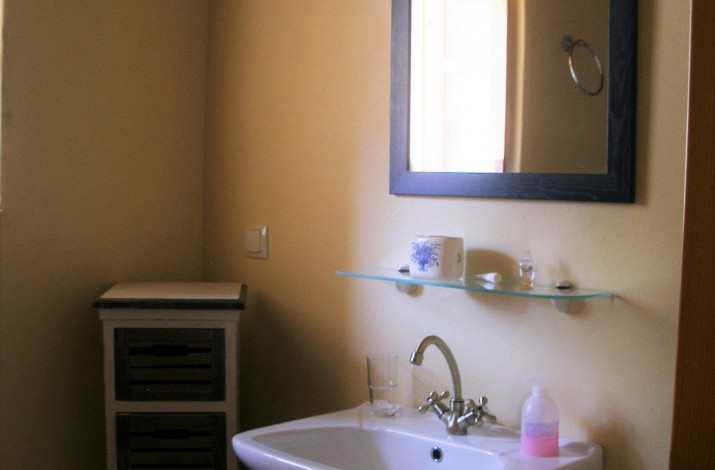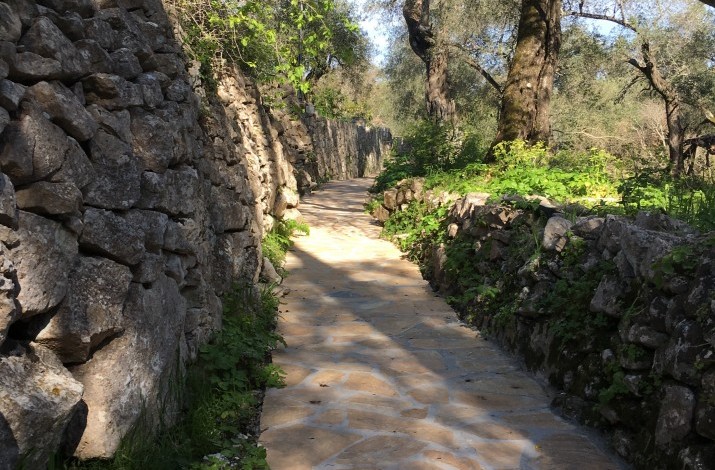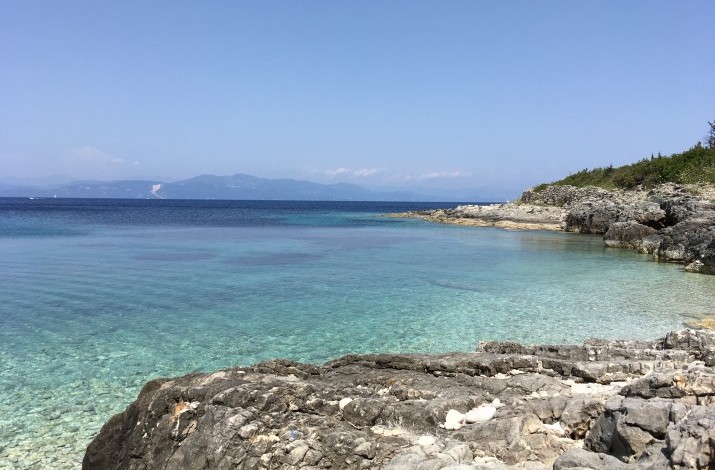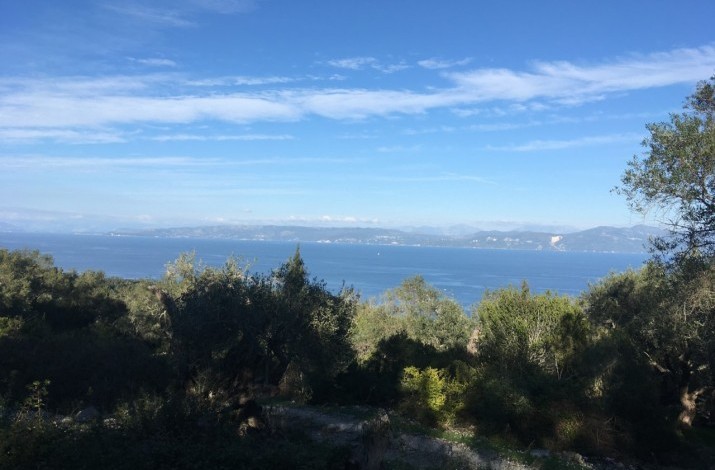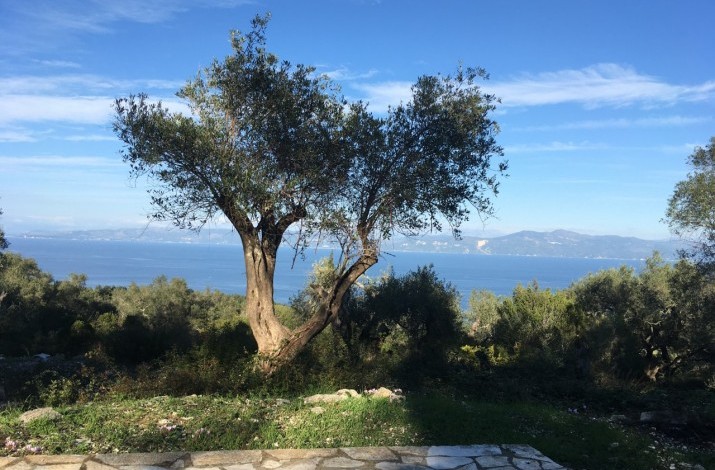 Prices from 85 € per day.
Early 19th century converted olive mill, lovingly restored to a 55 square metre. self-catering stone-built cottage.
Located in a tranquil and secluded 500-year old olive grove on the island of Paxos (Ionian Sea, Greece).
Facilities include: one double bedroom, 2 built sofa beds in sitting area, spacious bathroom, dining area, fully equipped kitchen, open air cook oven and BBQ, 2 courtyards as well as ample space in the surrounding property, rain water from refurbished traditional cistern, and maid service 3 times a week.
The thick stone walls and ceiling fans ensure a comfortable temperature on hot days. However, as some days (and nights) are too hot to bear without air-conditioning, two discreet but very efficient A/C units have been recently added to make your stay more comfortable.
The house is situated near the village of Fontana or Platanos, 3.5 km. from the main port of Gaios, and 3 km. from Loggos. There are two tavernas, one bakery and a mini market in the near-by village of Fontana. The closest beaches are 700 m. and 1 km. from the house. Plenty of hiking trails nearby and all over the island.
The island of Paxos boasts great beaches and a clear sea surrounded by a deep green landscape and several picturesque villages. It balances perfectly a cosmopolitan side during high season while a tranquil refuge during the rest of the year.
Renting this house will offer you a great opportunity for relaxing and secluded vacations in one of the most idyllic islands in the world.
Minimum 4 night stay.
Getting Around:
It is recommended to hire a car or a scooter in order to explore the island and increase your swimming options. If, however, you like walking, there are two beaches close by (albeit with a 20 mins uphill walk all the way back) whilst the little village of Fontana (Platanos) is only 300 m. away and hosts a mini market, a bakery and two tavernas. You can also take the bus (3 times a day) to visit the other villages, Gaios, Magazia, Lakka and Loggos. If you wish to rent a boat, you can choose between Loggos and Gaios. The taxi is also quite affordable.
Please note the google maps location gives the general area of the house, directions will be provided by the owner when booking.
Facilities:
Wi-Fi available
Air conditioning
Private garden
BBQ
Balcony or terrace
Bicycles available
Central heating
Safe
Cooker
Fridge
Freezer
Kettle
Washing machine
Iron
TV
Stereo system
Hair dryer
Ceiling Fans
Linen provided
Towels provided
Housekeeping Included
Secure parking
Not suitable for wheelchair users
National Tourism Organisation Registration number (MHTE):0829K9100O405201
| Dates | Price |
| --- | --- |
| Dates | Price per day (euros) |
| 1st - 31st May | €95 |
| 1st - 15th June | €100 |
| 16th June - 30th June | €105 |
| 1st July - 19th July | €125 |
| 20th July - 31st July | €150 |
| 1st August - 20th August | €180 |
| 21st August - 31st August | €150 |
| 1st Sept - 14th Sept | €125 |
| 15th Sept - 30th Sept | €115 |
| 1st Oct - 31st Oct | €90 |